Avoid costly failures and reputational damage with our exclusive eBook:
"A Bitter Pill: How Misaligned Incentives and Broken Promises Are Failing the Pharmaceutical Industry"
Unlock the Secrets to Successful Vendor Partnerships in the Pharmaceutical Industry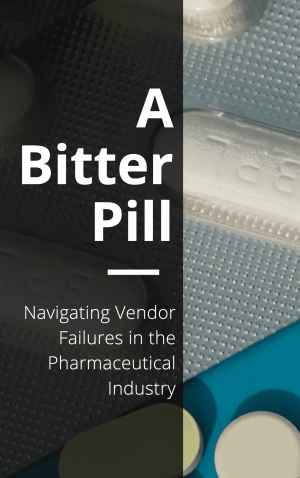 Navigating the complexities of vendor management in the pharmaceutical industry is no easy task. The stakes are high, with vendor failures leading to financial losses, delays in drug development, and even reputational damage. But what if there was a way to mitigate these risks and foster more successful vendor partnerships?
Introducing our exclusive white paper, a deep dive into the world of vendor management in the pharmaceutical industry. Drawing on insider knowledge and expert insights, this comprehensive guide uncovers the root causes of vendor failures and offers practical, actionable solutions.
Don't let vendor failures be a stumbling block in your path to success. With this guide, pharmaceutical executives can navigate vendor relationships with confidence, ultimately benefiting their companies, stakeholders, and the patients they serve.
Here's what you'll get:
An in-depth analysis of notable vendor changes in the industry and their impact on pharmaceutical giants like Pfizer and Merck
A detailed examination of the root causes of vendor failures, from misaligned incentives to regulatory challenges
A nuanced approach to vendor management, including a sophisticated checklist designed to mitigate risks and optimize outcomes
An insider look at the role of data analytics in successful vendor management
Get Your Complimentary eBook: A Bitter Pill